So I've finally upgraded my computer, Again, I guess. I've built my own computer ever since my university laptop (the Toshiba Tecra M3 — Pentium M 750 1.86 GHz, 512 MB RAM, 80 GB HDD) died. I remember when that happened … I opened it up and there was so much dust in it that it probably overheated and maybe something shorted out. It was a complete bust. I'm actually rather surprised that it lasted that long. University life is quite rough and it lasted the better part of about 4-4.5 years (almost my whole time at Uni). When I bought it at the time, it cost $1,494.17 on Aug 15, 2005. According to Bank of Canada's Inflation Calculator, that's more like $1,865.28 in today's 2018 money.
---
In my last year at McGill, I had to build my own PC. I'm a nerd, so I was ok with that. No longer needing a portable computer since Uni was almost over, I could now build myself something much more powerful than my old dead laptop. I placed my order from the MicroBytes Store in downtown Montreal On Sept 30th, 2009. This is when my PC was born. Now if I take the money spent on my laptop and divide that by the number of months it lasted me, I can use that number to compare my new bunch of purchases: $1,494.17 / (49 mths) = $30.49/mth
I got a few recommendations from friends and built from there. Here is a list of the original specs of all the components I bought (Note: some details I could not find … It's like I bought this old thing in Cash or something … without any records … Like a caveman):
Motherboard: ASUS P5Q DELUXE (this one I remembered off the top of my head … Something about the "P5Q" that just stuck in my head. And then I googled it and instantly remembered it … Those colours really made me happy. Plus it was a really great motherboard back then. (guessing it was about

$150-200

back in the day. eBay has a couple now in the $100 range)
Graphics Card: ATI RADEON HD 4770. I had this card from 2009 to 2018 (this card lasted me 9 years … I can't believe I never upgraded it until now.) Back in the day, I got this card because it was the best bang for the buck. I paid $128 for it 9 years ago. Today, I see a few hits on eBay for it for about $20-40. 
CPU: This one I couldn't find too much info on. I know I had a Core 2 processor. I'm pretty sure it was a Dual core, not the Quad core variants. After some searching, I think it was the Core 2 Duo E8600 — 3.33GHz processor. I can't find the receipt anymore, but according to "Then & Now" it was $266 … almost on par with the monitor.
Memory was simply DDR2 … Not sure what brand anymore. I don't think I paid much for this. probably just got like 8GB. probably about $100 back then.
Hard drive was probably a really smol one … because all I can find is that about 2 months after I built the PC, I upgraded to this one for $39.95 (thanks Wayback Machine for saving that webpage from 2010). Guess I thought it was a steal of a deal because I e-mailed myself that deal from work … I find it weird, the things I did just a few years ago … You think I'll find this stuff I'm doing now weird in 5 years? Maybe:
I also purchased this case (minus the dust). It was just a really simple case (no bells no whistles). I even made my own dust filter out of tissue paper. Pretty sure I bought it because it was the cheapest they had (probably $40-50 if I recall).
I also got the bottom of the line Power supply (I think it was like 350Watts … what was that, like $20 back then?)
And a CD rom drive … so old. I think it was a

$15 addon

. Pretty sure I said. Fine, but only because you're forcing me to.
I finished it off with a 24″ ASUS

VH242H

Monitor, which I still use to this day. Works perfect, why change it? Back when I bought it about 9 years ago, this thing was the cat's meow. I remember the night I built the PC … I turned off all the lights and I was just staring at this thing looking for some cool videos to feed it and play games on it! I remember the monitor being aroung $300.
Guess I had to get a keyboard and a mouse too: lets add $50
So my first computer build cost me:
Motherboard $150 + GPU $128 + CPU $266 + RAM $100 + Hard Drive $39.95 + Case $40 + CD $15 + Monitor $300 + periferals $50
TOTAL = $1,088.95 (in 2009 money = today's 2018 value $1,274.08)
So, I had replaced my old laptop with a custom build PC for $591.20 less in relative monies, but with much more powerful internals. Here's a summary table to show the relative differences:
| | Laptop: Toshiba Tecra M3 | Desktop Custom Build: | | |
| --- | --- | --- | --- | --- |
| Cost (today's $) | $1,865.28 | $1,274.08 | | |
| CPU | Intel Pentium M 750 / 1.86 GHz | Core 2 Duo E8600 / 3.33GHz | | |
| GPU | NVIDIA GeForce Go 6600 TE - 128 MB DDR SDRAM | ATI RADEON HD 4770 - 512 MB GDDR5 | | |
| RAM | 512 MB DDR SDRAM-333 MHz | 2GB DDR2-667 MHz | | |
One thing that you won't see on the specs for this computer is how much I wanted to build this thing ASAP. The day that MicroByte called me to tell me that all the parts had arrived, I totally booked it right for the store. I walked. Because I didn't own a car back then and I lived nearby. Actually, I lived 1hr away from the store in walking time. But 1hr of walking for me back then was nothing. So I made it to the store. Payed for all my purchases and then put one box under one arm (the PC case) and another box under the other arm (The monitor) and the rest of the things in 2 bags in each hand. Walking uphill … literally. I lived on top of the Plateau Mont Royal: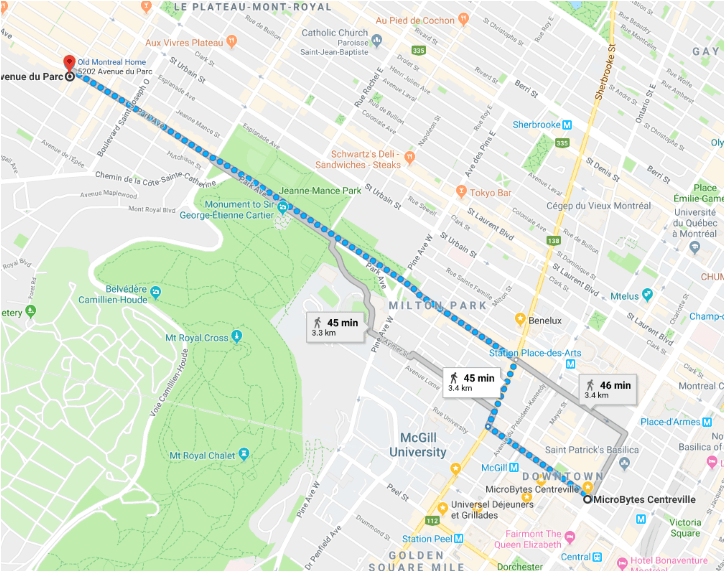 ---
Jump forward a few years. I used my PC happily up until about Nov 2011. so overall that purchase was $1,274.08 / (26 mths) = $49.00/mth … But, I decided that I wanted to upgrade my Motherboard and my CPU. I needed more speed! I bought myself a brand new Solid State Drive:
New Drive: OCZ Vertex 3 — 120GB Solid State Hard Drive (OC-SSD3-25SAT3120G) For

$298.49

from Best Buy in Nov 2011 (retired now … not really a good buy now was it?!)

New Drive: Western Digital Caviar Black 2TB 3.5″ Desktop Internal Hard Drive (WD2002FAEX)

$79.99

from Best Buy in Nov 2011 (still using this as my main archive storage device)
New Motherboard: Asus P8Z68-V PRO GEN3 (my Current MOBO!) purchased from "New Type Computer Workshop" a local computer shop near when I used to live … $214.50 according to the way back machine
New CPU: Intel i5-2550k 

2nd Gen. (Sandy Bridge)

$

247.50

also

accoriding to the wayback machine. Pretty sure I paid this one in cash too … (my Current CPU!)
I also purchased a new Power supply to power the new CPU. I got the Cool Master GX 650W. Looks like it cost me $97.99 …
Total Cost for the Upgrade: SSD $298.49 + HDD $79.99 + MD $214.50 + CPU $247.50 + PSU $97.99
TOTAL = $938.47
With this upgrade, I was able to take my PC from the bronze age to the Iron age. My drives became decently fast and my CPU was revived with a brand new motherboard to boot. I'm still using all these components except for the SSD. So overall, good upgrade. I'd say really good upgrade since it almost lasted me up until very recently without me wanting to rip my hair out.
---
I say almost because, in April 2014, I purchased some new RAM to upgrade the old ones. Pretty sure I did this because I was starting to need more for high graphics programs. I boosted my RAM with some Kingston HyperX (2x4GB) 1600 MHz DDR3 from 8GB to 16GB total for $120.92 on Amazon.ca … so I guess this is $938.47 / (29 mths) = $32.36/mth
---
Now, I just finished a recent upgrade to the PC tower. So my old purchase satiated me for about $120.92 / (43 mths) = $2.81/mth. This time, you wouldn't be able to recognize the little one anymore … It's like it went through puberty. I upgraded the Case this time. I really wanted to just get something refreshing. Change it up from the boring old black box with a tissue as a dust filter … I also upgraded the CPU cooling so that I could finally use that unlocked overclockable processor … I mean I paid probably an extra $100 just so that the thing is unlocked. And, yes, I finally upgraded my Graphics card … seriously, I don't know what I was waiting for. And I also changed my Power supply. Oh, and my wonderful wife got me an early Christmas present and decided to buy me the last few components I was looking at: a new SSD + RAM. Here's the detailed breakdown:
My main reason for wanting to upgrade my PC were to bring out my Graphics card from the stone age and to make my computer sound less like an airplane taking off … It was ridiculous really. I'm pretty sure that when I was on the phone near my computer, people thought I was on a construction site while the forklift was driving by. This was mostly due to my Power supply, But also a little bit because of the CPU and the old Graphics card. All these upgrades have now made my PC almost fully silent, save a few slow spinning fans.
And, now, I feel proud to look at my PC. I mean look at this thing … It looks like it's from a SciFi movie:
With my CPU Overclocked, and my Graphics Card Overclocked, and my RAM Overclocked … It really doesn't leave much left to upgrade. But I've extremely happy with it, so I think this latest upgrade will definitely last me quite a few years. I'll probably be helping our daughter Marina build her first computer before upgrading again!
Here are the final results for my current PC build from UserBenchmark.com:
Over all, I've spent $5,081.71 on computer parts from Aug 2005 until Sept 2018 (13 years) … That's an average of $32.37/month … I regret Nothing!